If you would like to read more about us and such, click here for the policy and FAQ
POLICY:
All prices are in US dollars. If you would like to know how much is cost in your currency, we could tell you or you can do it yourself here.
Note: Paypal does convert it for you however we are not responsible for the difference in estimation on the site and Paypal as currency does depreciate and appreciate.

When we send an invoice to you, we expect within 48 hours for you to complete the transaction. Once the transaction is complete, your items will be packaged and shipped so the faster you complete it, the faster items will be shipped. If you need more time, please notify us or else your items will be placed up for sale once again.

It's a first come, first serve basis.

If you want more information/pictures on the item that you want to buy, feel free to contact us, via email/PM.

If you find the price too high, feel free to haggle however, it must be within a reasonable range.

We have a right to refuse doing business with you.

We do not trade.
We am not responsible for lost/damaged packages and there are no refunds or exchanges.

Posts will be updated daily if someone has an item on hold or bought.

When we send you an invoice, we will re-list the items that you wish to buy. If you wish to remove any item or there are any mistakes, please let us know.

International shipping is very expensive so please do not complain if your total price is high.

BUYING & HOLDING:
* If you would like to purchase an item, please post it as a comment on that entry.
* If you would like to hold an item, please post a comment on the same post. We will hold the item for 72 hours.

SHIPPING & PAYMENT INFORMATION:
* All prices do not include shipping or paypal transaction fees. Please include your zip code(US) or country in your comment if you would like me to calculate shipping before you decide if you want to buy an item or not.
* For shipping, I will normally offer you two choices for package mailing. I will not ask about insurance or tracking so if you want those, it is your job to notify me when you place your comment down.
o Domestic (US) - Media Mail*, First-Class Mail, Priority Mail, Express Mail
o International - Priority Mail, Express Mail, Global Express Guaranteed
o Insurance and Extra Services
* Media Mail is only for magazines, books, or anything regarding paper and such.
* Once you fill out the form with your information, I will send you an invoice.
* Paypal only
* Contact: shessomaru026@yahoo.com

---
Policy & FAQ | Feedback
CDs, DVDs, Games | Japanese Magazines | Manga/Manga Magazines
Posters
---

None of these come with posters or other things unless stated otherwise and ALL OF THEM ARE LIKE NEW unless stated otherwise.
All of the covers were scanned instead of taking a picture except for Neo Genesis 34.
If you want to know which band is in what magazine, check here. If for some reason, you can't find the scans for the magazine, feel free to ask for samples of the magazine.

To make things easier, listed below is the magazine brands.
Arena37ºC, B-Pass, CD & DL (CD-DATA), Cure, Fool's Mate, LIPS, Neo Genesis, Pati ► Pati, Shock Wave, Shoxx, Shoxx Bis, What's in?!, Visual Rocker's Bible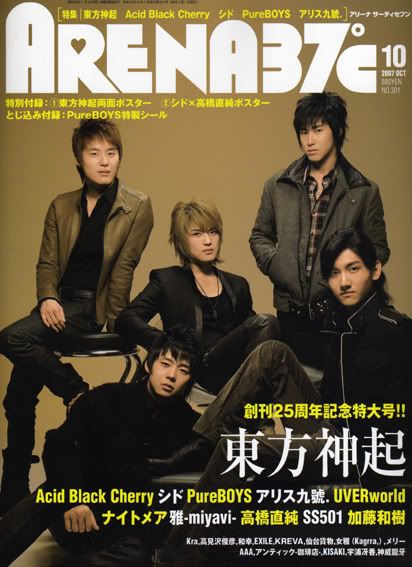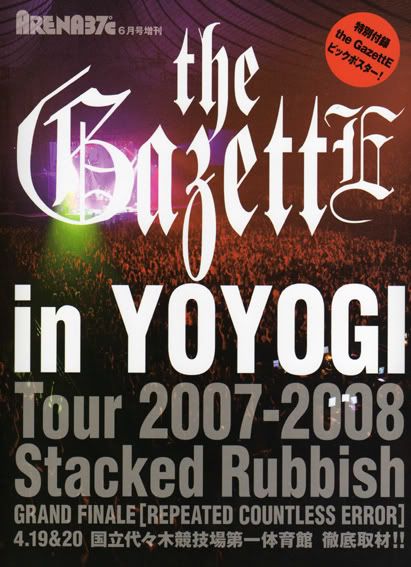 Left to Right:
- MJ001 - Arena37ºC (October 2007) - $7
o Comes with a sticker sheet, not removed.
- MJ002 - Arena37ºC (July 2008) - $7
- MJ006 - Arena37ºC the GazettE [Stacked Rubbish] - $10



Left to Right:
- MJ007 - Cure Vol.53 (February 2008) - $7
- MJ008 - Cure Vol.54 (March 2008)- $7
- MJ009 - Cure Vol.59 (August 2008) - $7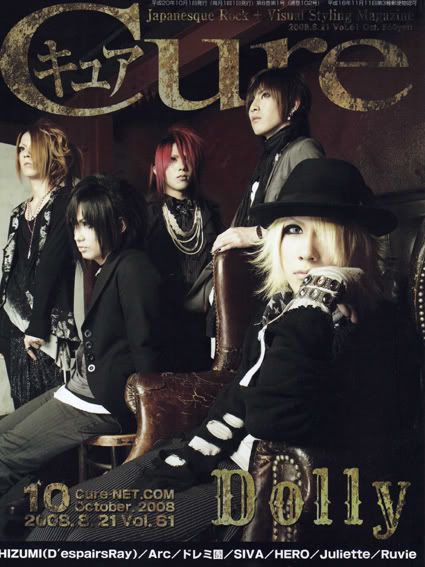 Left to Right:
- MJ010 - Cure Vol.60 (September 2008)- $7
- MJ011 - Cure Vol.61 (October 2008) - $7
- MJ012 - Cure Vol.62 (November 2008)- $7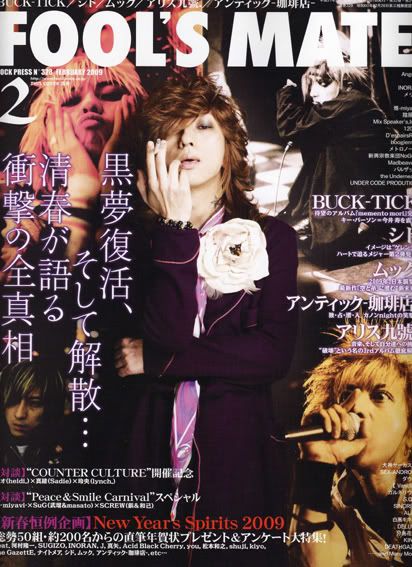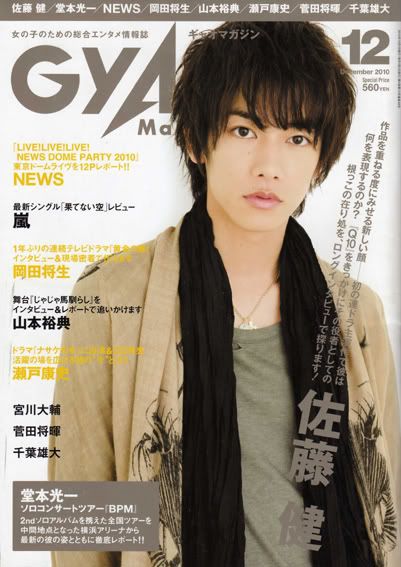 Left to Right:
- MJ013 - Cure Vol.64 (January 2009) - $7
- MJ016 - Fool's Mate Nº328 (February 2009) - $7
- MJ018 - Gyao (December 2010) - $4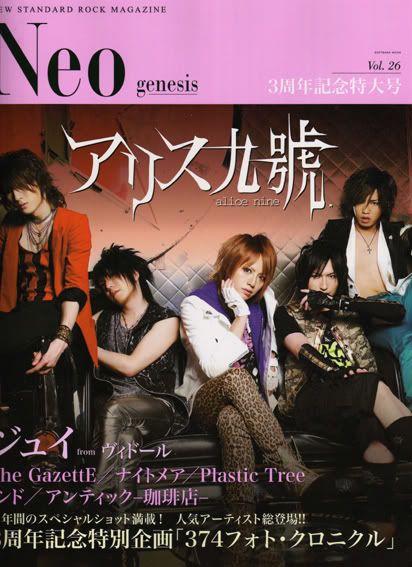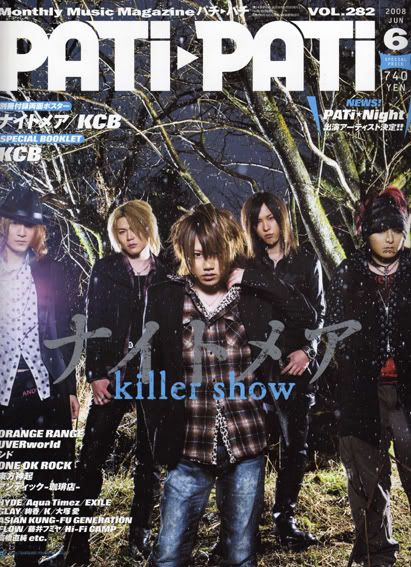 Left to Right:
- MJ019 - Neo Genesis Vol.26 (July 2008) - $10
- MJ020 - Neo Genesis Vol.34 (December 2010) - $10
- MJ021 - Pati ► Pati Vol.282 (June 2008) - $7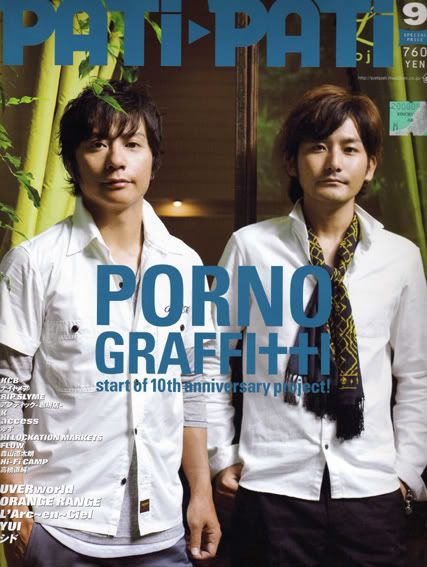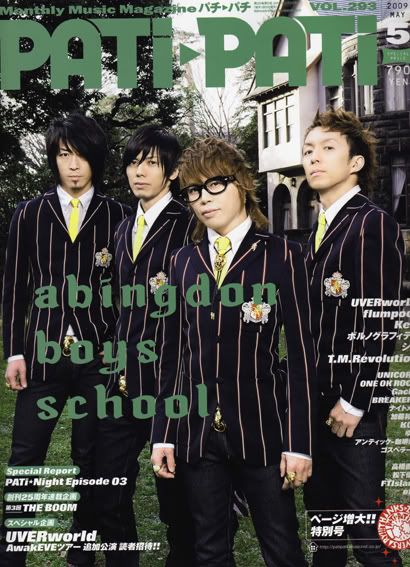 Left to Right:
- MJ022 - Pati ► Pati Vol.285 (September 2008) - $7
- MJ023 - Pati ► Pati Vol.290 (February 2009) - $7
- MJ024 - Pati ► Pati Vol.293 (May 2009) - $7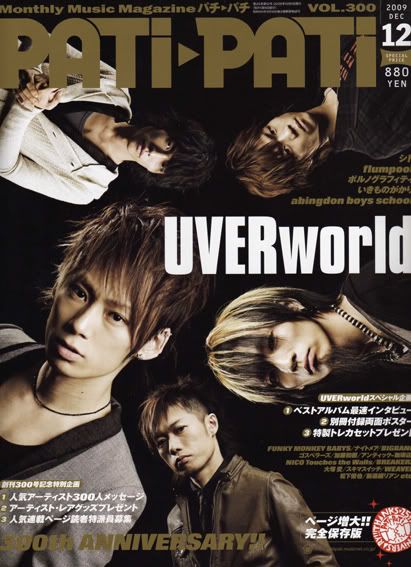 Left to Right:
- MJ025 - Pati ► Pati Vol.296 (August 2009) - $7
- MJ026 - Pati ► Pati Vol.298 (October 2009) - $7
- MJ027 - Pati ► Pati Vol.300 (December 2009) - $7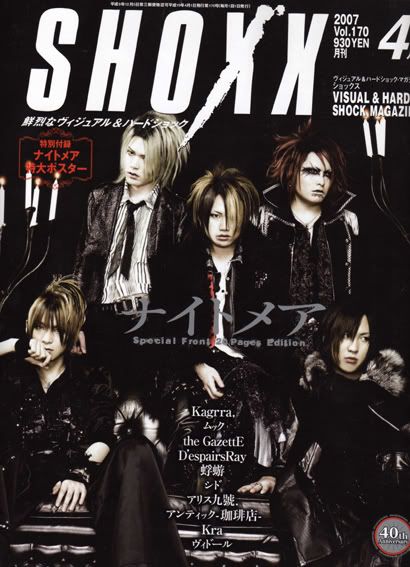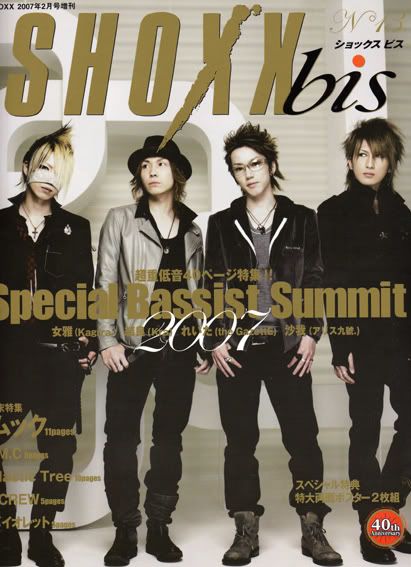 Left to Right:
- MJ030 - Shoxx Vol.170 (April 2007) - $7
- MJ031 - Shoxx Vol.195 (May 2009) - $7
- MJ032 - Shoxx Bis Vol.13 Special Bassist Summit (February 2007) - $7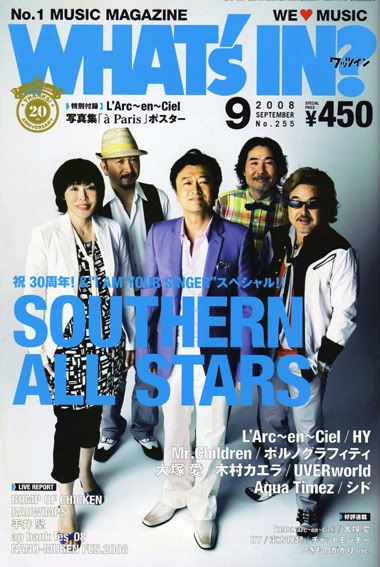 Left to Right:
- MJ033 - What's in?! Vol.255 (September 2008) - $4
- MJ035 - What's in?! Vol.263 (May 2009) -$4
- MJ036 - What's in?! Vol.270 (December 2009) - $4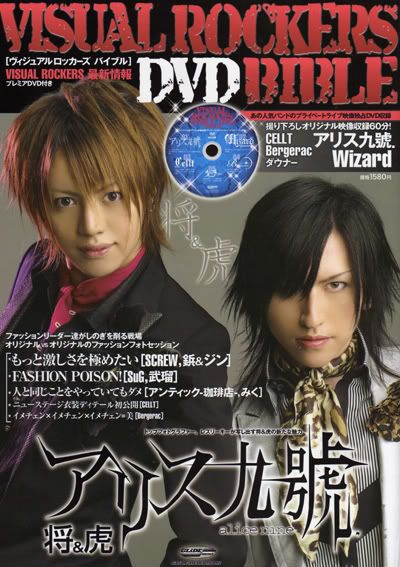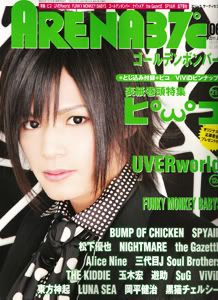 Left to Right:
- MJ037 - Visual Rocker's Bible Vol.1 (June 2008) - $10
o Like new, includes DVD (Unopened - 60 Minutes of footage)
- MJ039 - Arena37ºC (February 2011) - $7
- MJ040 - Arena37ºC (June 2011) - $7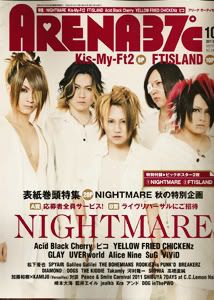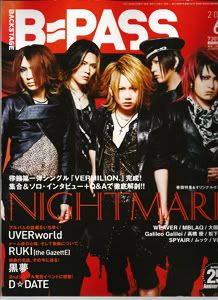 Left to Right:
- MJ042 - Arena37ºC (October 2011) - $7
- MJ043 - Arena37ºC (November 2011) - $7
- MJ044 - B-Pass (June 2011) - $7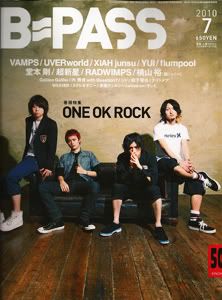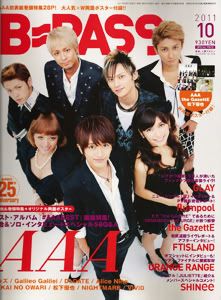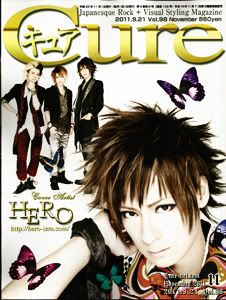 Left to Right:
- MJ045 - B-Pass (July 2011) - $7
- MJ046 - B-Pass (October 2011) - $7
- MJ047 - Cure Vol.98 (November 2011) - $7



Left to Right:
- MJ048 - CD & DL (June 2011) - $7
- MJ049 - CD & DL (September -> October 2011) - $7
- MJ052 - LIPS (November 2011) - $7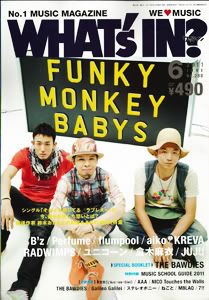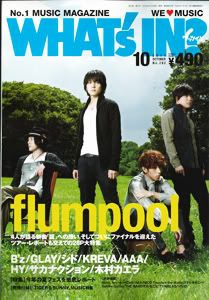 Left to Right:
- MJ054 - What's In?! (June 2011) - $4
o The backcover and some pages in the back are bent. There is also a part of the front cover that is missing.
- MJ055 - What's In?! (October 2011) - $4
- MJ056 - What's In?! (November 2011) - $4



Left to Right:
- MJ057 - What's In?! (December 2011) - $4



Policy & FAQ | Feedback
CDs, DVDs, Games | Japanese Magazines | Manga/Manga Magazines
Posters